So now I finally find myself in Barcelona where I'll stay until September next year (unless I can find some form of education down here).
The Funride
It took a lot of courage to make the move down here since I don't know anyone in the city. To try and undermine that sense of insecurity that comes with moving to a strange place, I went on one hell of a bender the day before I left. What should've been 3 hours of playing pool with a good friend became 6 hours of beer and vodka. I couldn't even stand on my own legs at the end. I got home, slept 5 hours and then got up and left my home sweet home (which is actually my parents house. Been living there since I came home from Singapore in May. I think they were quite happy when I finally left since I spent most of my time dozing off in front of the tv, eating, drinking or just annoying the hell out of my moms cats). I got to the airport all in good time. I was stopped in security and had some fat fart grope me because of my awesome brand new metal jaw. I guess I just gotta get used to this kind of loving treatment anyway.
Taking the plane down here was as fun as it could possible get when hungover.
Barcelona airport was oddly silent and dark. Turns out there was a major strike going on in the city due to the ongoing economic crisis. Most stores didn't open until five o clock in he afternoon.
I got to my house and faceplanted on my bed where I fell asleep to the Man City - Villarreal game (golgolgolgolgolgolgolgolgolgolgolgolgolgolgolgolgolgol!).
Next day
The next day I got up and went to the nearby language school to take a Spanish test so they could find out at what level I belonged. Upon taking the test I found out that my Spanish was nowhere near as good as I had expected. Maybe it was because I was hungover and confused or maybe I just hadn't learned that much. Point taken, they decided I should start at the lowest level possible (looool yeah my Spanish sucked that bad). I have to start tomorow at 12:30 and school ends at 17:00. I was pretty pleasantly surprised at this (because I love sleeping) and didn't make any complaints.
TV
I got home and watched some TV. Now, if you're from Scandinavia then you know that your language is insignificant, which is why there's a few English channels even at home. Here it's all Spanish and Catalan TV. It was pretty funny to listen to a Spanish dub of a Bruce Willis movie and the entire Friends crew spoke in deep Spanish, but after awhile it got a bit tiresome and I'd kill for some English TV. It's sad to think that new Tintin movie is coming out and I probably won't be catching it with it's original language.
There was a couple of channels that were pure awesome sauce for a Barca fan, like 24/7 BarcaTV, MarcaTV, Esport3 and so on which included everything from parodies on Mourinho and Ramos to asking people in the streets what they thought about football. Football updates whenever possible and long talkshows that delved in nothing but pure football. BarcaTV was pretty hard to understand what with Catalan being a lot different than Spanish (I understand maybe 20% from Spanish, 10% from Catalan). I watched the Plzen press meeting and Guardiola's speech. What I got from it was that Plzen was gonna defend like all hell would break loose and that Messi this, Messi that and Messi is the big bad monster who'll come out to get you. It made me suddenly go "oh shit. Messi is actually out there somewhere right now!".
Guardiola always seem like a press meeting is the most boring thing in the world. You could just see him sigh on the inside for every question that was asked. He's also a very different type of coach who prefers to let football speak for him instead of words. Unlike Mourinho and Ferguson who revel at the chance to speak their minds and who use press conferences as a tool of war, Pep has always given the press exactly what they expected to hear. Except of course back before the 2-0 Clasico. God, that was awesome. Of course you all know this.
FC Barcelona
Where to even start? The importance of this team to Catalans and the city itself is absolutely immense. For everyone who loves good fooball and for every Barca fan around the world this team is exactly what it is on TV: One of the best teams to ever play football. To the people of Barcelona and to the city itself this team is on another level. The players are not just players, they're the pride of the city, they're the very image of the city. The players themselves are held in so high regard it's like they're demigods. They're role models, they're fashion idols, they're incredible beings of mystical power and yet they are just your average people of Barcelona. The people of Barcelona love them and they love to show them off. Their faces are everywhere in the city, Xavi with mineral water on big posters, Pique wearing the latest in fashion, Adidas and Messi, Puyol and helping the children, Guardiola here and there, and Iniesta advertising for ice cream in the local kiosks. I'm telling you: Hollywood and it's stars don't come close to this. This is no place for a hardcore Madridista. Good thing I'm a cule who would never speak ill of the team.
Food
I broke the spell of the TV and went out to get some food. I live up in Gracia so it took me a bit to walk down to La Rambla. I ate a bit of tapas and smoked some cigs (despite officially stopping the day before lol). I also had a bit of sangria to ease up the hangover. You can say a lot about Spanish food but practicality and deliciousness is what makes it awesome. I still stuffed myself to the brim (we vikings eat good portions). It made me think about that bread in Lord of the Rings and how much one little bite could do. It also made me regret eating so much. The waiter was awfully nice but I was a bit embarressed by my lack of Spanish so when he said thank you for the tip I completely forgot what to say and just stayed silent. It's also times like these I get pissed off at the fact that Danish people don't have that awesome word that just says it all. The Spaniards say "Por favor", the English "Please", the Germans "Bitte" and the danes nothing at all (except maybe the occasional plain "thank you"). It's not because I want to be unfriendly, I'm just not used to add those kind of words to sentences.
Life in the City
The city itself is vibrant with life. Catalans really know how to enjoy themselves here and now. You see a lot of both old and young people chilling on benches, reading, smoking, eating and just enjoying the moment. If you're from southern Europe it'll all seem normal, but if you're from northern Europe it's less common to just enjoy life in that way. Maybe it's because 2/3 of the year it's just too cold to sit and chill, maybe it's because if we sit outside it might actually encourage people to talk to us and burst our bubbles. Either way, it's good to be in a society that's not closed off and where social interaction with strangers isn't outright frowned upon or considered awkward.
It's also interesting to see that the people here are not as fashion consciouss. Don't get me wrong, it's definitely one of the fashion capitals of the world but compared to back home where everyone and their mother has to dress trendy in designer clothes, with fake glasses and that weird slick hair, it's obvious that people here just want to be comfortable in what they wear with jeans and chillax T-shirts.
Scooters are extremely popular here. At home it's a general rule that you ride a scooter until you're old enough to buy a car or otherwise you just rely on your bicycle. Here I've seen more guys in suits on scooters than I've seen in a lifetime. It's pretty cool.
I saw quite a few Plzen fans around in the city. I don't think many of the Catalan people pay them much heed. After all their team is barely a threat to mighty Barca.
There's a lot of pretty girls in the city and they love to show it. The ratio was 50-50 hot and meh. Back home it's usually 60% good looking to hot and 40% .... yeah. But then again Scandinavia is an absurd place in the world when it comes to beautiful women. Beautiful but cold as ice.
The City itself
It's a fantastic city, with lots of pretty architecture, landmarks, plazas, small cozy alleys and lovely apartment blocks. I just knew I'd have to explore a lot and I'd probably still find new stuff even after 5 months. There's a whole load of shops as with any big city, where you can get almost anything your heart desires. For an architecture nut I'd imagine this city would be a holy Mecca in itself. Lots of gothic buildings with sculptures the like I've never seen, sprouting from the buildings like flowers. Catalan modernisme was also evident everwhere and I came across several of Gaudi's buildings on my way. Gaudi has always fascinated me. The very first day of school back when I was 6 years old, I remember we had art class and Gaudi was the very first artist we learned about. Probably the very first artist I ever learned about before I heard about Van Gogh, Magritte or Dali. I remember we had to paint that kind of organic structures, stuff that just sprouted out of the ground. I think my mom still has that painting I made at home. Yeah, I've known of Gaudi since I even knew about FC Barcelona. Most buildings had been build so creatively that I felt it gave a whole new meaning to architecture. Back home it's like a blend of square grey castles and Soviet-esque buildings. Here it was colours and shapes. When I walked around in the streets it was a pretty common sight to see a Catalan flag hanging from a balcony. Most street signs were written in both Catalan and Spanish. There was never any doubt: Barcelona is Catalan, not Spanish.
So now I'm just chilling on my couch, waiting, waiting and waiting for the game against Plzen to start.
I get the feeling there was something I forgot to add but who can blame me? There's just too much going on to get down on paper.
Here's a few pics from my apartment balcony: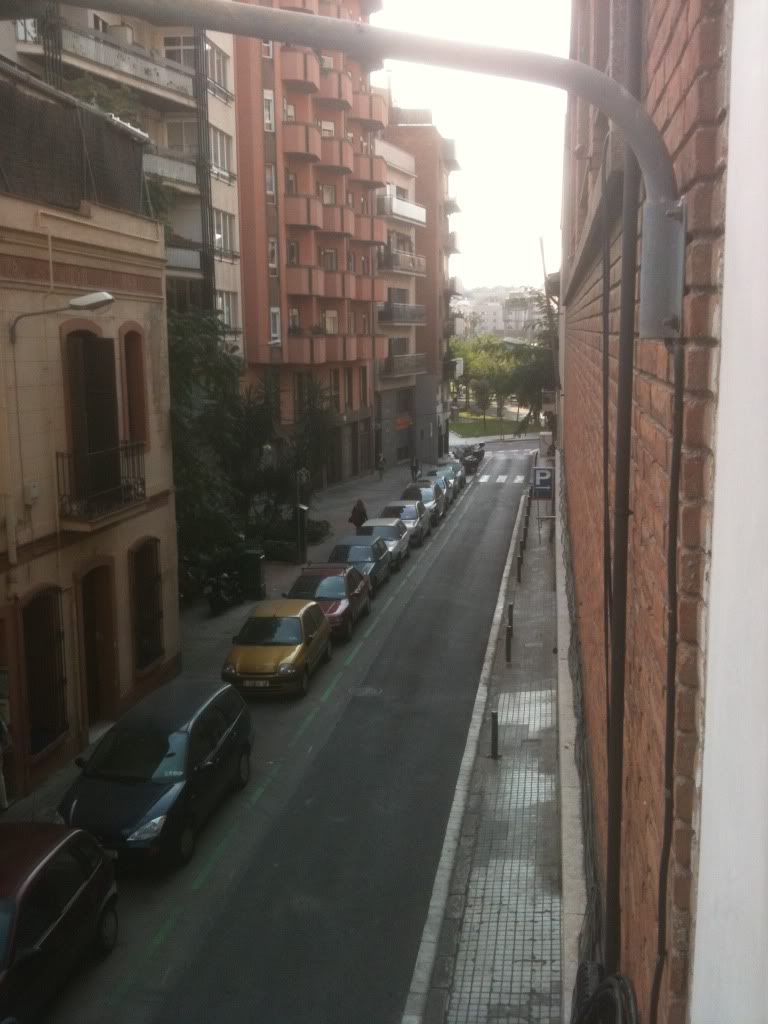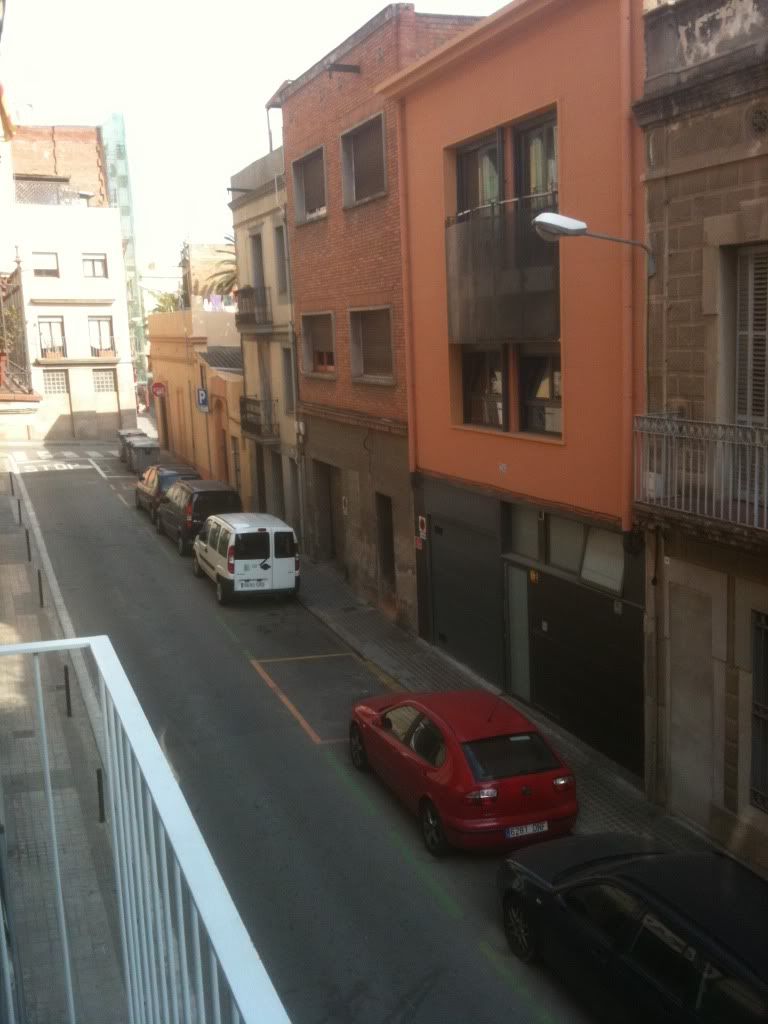 Yeah, no biggie but it's still decent.
I'll try and update this thread weekly to give a thorough and insightful look into the city.
Edit: BarcaTV is awesome. Goals both in colour and black and white (back from the old days). I'll probably be a walking Barca encyclopædia within a month.
Last edited: