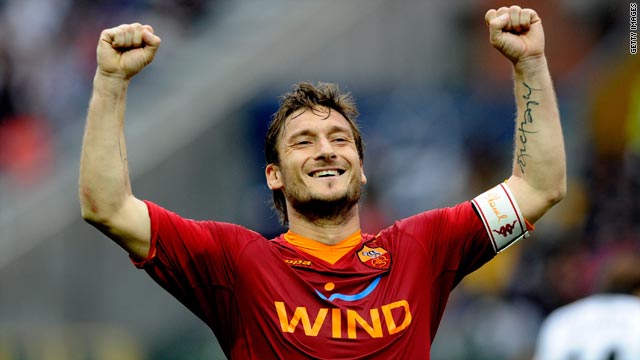 Francesco Totti
"I grew up playing for Roma and I want to die playing for Roma, because I have always been a Roma's fan!"
​
Francesco Totti was born in Rome, Italy on September 27th, 1976 to parents Lorenzo and Fiorella Totti. It is said he was always interested in watching football matches from a very young age, going with friends to watch Roma in the Olimpico's Curva Sud. It is this love for Roma that has kept him with the club, from childhood supporter to club captaincy.
Totti made his first club appearance for Roma on March 28, 1993, against northern club Brescia. The next season, under coach Mazzone, he began to play more often and scored his first goal on September 4, 1994 against Foggia. By 1997, he would become a regular starter for the Giallorossi, and was given captaincy duties in 1998. A legend in the making.
---
Francesco Totti, the king of Rome. Most love him, some despise him, but all will agree he's one of the greatest players to ever play the sport.
​
---
Club Honors
Serie A
2000-01:
Captain Totti led Roma to its third Scudetto, alongside great players such as goal-machine Batistuta, current Fiorentina captain Montella, Brazilian legend Cafu, and club legend Aldair. The title was clinched on the last day of the season with a 3-1 win over Parma, ending the season with a total of 75 points, 2 above runners-up Juventus.
Coppa Italia
2006-07:
It was the third season in a row Roma faced Inter Milan in the Coppa Italia final. Roma dispatched AC Milan 5-3 on aggregate in the semifinals, while Inter beat Sampdoria 3-0 on aggregate to advance to the final. At the time, the final was played over two legs, once in each participant's home stadium. The first leg was played in Rome and Inter were thrashed 6-2, with none other than Totti opening the scoring on the first minute. The second leg in Milan ended in a 2-1 victory for Inter, making Roma champions with an aggregate result of 7-4.
2007-08:
The two leg system was abolished in this season and the Stadio Olimpico of Rome was designated as the venue of all Coppa Italia finals. Once again, Roma and Inter advance from their semifinals against Catania and Lazio, respectively. Roma won 2-1 thanks to goals from Mexes and Perrotta. Totti was injured during that period and didn't take part in the match, but as team captain he was allowed to lift his fourth club title.
Supercoppa Italiana
2001:
After having won the Scudetto the previous season, Roma set up a Supercoppa finale with Fiorentina, winners of the Coppa Italia. Roma comfortably won the match 3-0, with its golden boy ending the show with a follow-up after a Candela strike.
2007:
AS Roma once again competed in the Supercoppa having won the previous season's Coppa Italia. This time they would face Inter Milan whom they finished second to in the league. Totti was once again the decisive factor as he was fouled in the box by future teammate Nicolas Burdisso. Club second-in-command Daniele De Rossi stepped up to the penalty spot and struck a shot too powerful for Julio Cesar to stop. The game ended 1-0 and Roma were once again victorious.
International Honors
UEFA European Under-21 Championship
1996:
A then 19 year old Totti played alongside future teammates and rivals in the form of Buffon, Cannavaro, Nesta, Delvecchio, and Tommasi. Italy, coached by the legendary Cesare Maldini, opened the scoring through its rising star Francesco, before Spain's own star Raul Gonzalez equalized. Italy was soon reduced to nine men but held on to reach the penalty shootout. Italian keeper Pagotto denied Spain's Raul and Ivan de la Pena to emerge victorious.
Mediterranean Games (Under-23)
1997:
The Mediterranean Games is a kind of smaller Olympics mainly for nations on or near the Mediterranean Sea. The 1997 edition was held in Bari, Italy. Totti along with the Italian sub-23 side won the tournament.
FIFA World Cup
2006:
The World Cup, the greatest of them all. The biggest stage a player can perform in, and Totti did just that and more. Francesco recovered from injury just in time to join Italy's squad. Although he was sidelined for nearly three months, coach Lippi trusted in him and Totti traveled with the team to Germany. Still with metal plates in his ankle, he was a key part of the Azzurri and played in all of Italy's seven games. Individually he scored only one goal, but registered the most assists for any player in the tournament. Assists that helped the Azzurri win its fourth world cup, and its first since 1982.
Individual Honors
Serie A Young Footballer of the Year: 1999
Serie A Footballer of the Year: 2000, 2003
Italian Footballer of the Year: 2000, 2001, 2003, 2004, 2007
Serie A Goal of the Year: 2005, 2006
Serie A Top Scorer: 2006-07
ESM Team of the Year: 2000-01, 2003-04, 2006-07
European Golden Shoe: 2006-07
Golden Foot: 2010
---
What they said...
Marcelo Lippi:
"Totti is the monument of Italian football." "There are no alternatives for Totti in Italy."
Arrigo Sacchi:
"For me, he is one of the greatest players I have ever seen."
Carlo Ancelotti:
"Francesco remains the undisputed symbol of Roma."
Carlo Mazzone:
"Totti? Simply fantastic. I think he is the greatest Roma player of all-time."
Luis Enrique:
"He is not only the King of Rome, but of the world. He is unique and it's a pleasure to have players like Totti in the side."
Florentino Perez:
"I spent a lot of money in my life to build a powerful team like Real Madrid, but my desire, I always liked the captain of Roma, Francesco Totti."
Raul Gonzalez:
"I would have been honoured to play alongside Totti, as he is one of the best players in history. Any club would've been happy to have him in their squad."
Pep Guardiola:
"Totti is a fantastic player."
Cafu:
"Totti is always strong, and as a Roman, fights for the team. He makes you feel great, and was a fantastic teammate. He has done a lot of brilliant things for Roma and for the Italian national team. I have always rooted for him."
Franz Beckenbauer:
"There are many star players in Italy, but the only one I would bring to Bayern Munich would be Totti. I know him well and he deserves to win the Ballon d'Or."
Diego Maradona:
"He is a great player and he will keep on showing that. He represents Italian soccer and the Italian fans will have fun with him."
Michel Platini:
"Totti is an artist of football, a true Number 10."
Dino Zoff:
"Totti was without doubt Baggio's heir. Even then I knew that he had the qualities to be so and his career and his numbers confirm it."
Fabio Capello:
"Only Gigi Riva could kick the ball like him in Italy. But only with his left foot. Totti can use both feet and can hit the ball in several ways. Such champions can shoot ten times per match and eight of them are aimed on target, while five are very dangerous and can turn into a goal. Totti's shooting qualities are unique and they will stay intact for life."
Last edited: