You sound like a choir boy crying about those "cheating" Spaniards. Especially the part with the water break.

"They decided to drink water and made us drink water too." Hilarious.
Hard to explain.
You need to play against us (Barca/Spain) to realize that.
When I watch Barca, I don't realize how some of our players fall down easily.
But now when I was on the other side in Croatia vs Spain, it was a disgrace.
You probably know those antics when Cr7 is falling down easily.
Or when Pepe is breaking bones to everyone, yet when you touch him, a guy with 190cm is falling down like murdered from the slightest touch.
Well, a lot of Spanish players were doing the same.
Koke, who usually doesn't look like a weak guy, fell down 3-4 times on the ground when any Croatian player would literally put a hand on his shirt.
Morata, the same. Whining, crying, falling down all the game.
Busquets also.
Here in Croatia, in our media, Spanish play uis lebelled as cheating on the 3rd goal, that is not something which I invented.
You know, 3 weeks ago Eriksen almost died on the pitch. And when players are drinking water during breaks, it is a fair play to wait for the opponents until all guys take some drinks, in order to not to die on a field, right.
And during the 3rd goal, someone from Spanish team was lying on the ground, the play was stopped.
Spanish players went to take a drink. Then Croatian players have seen that and all of them also came to take a water-break.
And while they were all drinking drinking water, a Spanish player (Pau Torres?) suddenly took a set piece and the ball was sent to Torres who was alone on the right flank because his marker LB Gvardiol was close to the RB position/drinking water with everyone.
Gvardiol actually still had water-bottle in his hands when Spanish players started to play.
On a Croatian Tv there was a video shown a lot of times how Gvardiol has seen that the play started and then he had to throw the bottle away from the pitch and only then started to run towards Torres, but it was too late and he could have only made a pen (and get a red card) or let him shoot and score.
When Pau Torres took that set piece, another Spanish player was still outside of a pitch, Morata and Olmo were chatting and slowly moving towards their positions, pedri was looking down standing near the coach, Koke was looking at the opposite direction drinking water.
So, basically, when Pau took that free kick, at least two players (Koke and LB Gvardiol) were still drinking water and they had bottles in their hands.
I have even made a screenshot of that action for you, to decide for yourself was that a fair-play action or a total asshole action/goal by a Spanish team?
Here is the pic: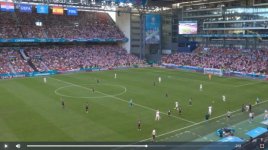 On the pic, Pau will take the set piece suddenly while everyone are walking, chatting and taking a water break.
LB Gvardiol is caught while drinking water and you can see him throwing away the bottle first (and losing a few seconds) and only then running towards F. Torres.
Here you can even check the video with highlights and with that goal:
https://sportklub.hr/euro-2020/video-orsic-usao-pa-se-upisao-u-povijest-vatrenih/
I don't think that I am salty for no reason:
1. Spanish players were cheating all game and falling down on the slightest touch, like murdered
2. and this goal is something what Mourinho would do since he is always doing asshole/cheating things