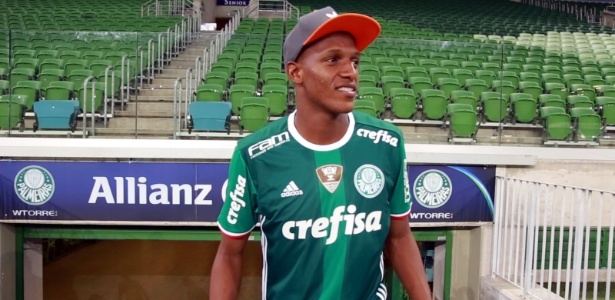 ​
Full name:Yerry Fernando Mina González

Date of birth:September 23,1994 (age 21)

Place of birth: Guachené, Colombia

Height:1.93 m (6 ft 4 in)

Playing position:Center Back

Current Club:FC Barcelona​
According to sport we secured a first option deal for Yerry Mina.
Barça agree a preferential option for centre-back Yerri Mina
-Palmeiras' Colombian defender would cost Catalan club nine million euros
The future of Colombian central defender Yerri Mina is linked to Barça.

Brazilian club Palmeiras have reached an agreement with Barcelona over the future sale of one of the most promising defenders in South American football, for a price set at nine million euros.

Yerri Mina is 21-years-old, technically gifted and quick, with an intimidation factor at his height of 6'3" which helps him on set-pieces at both the defensive and attacking ends of the pitch.

Colombia's national coach Jose Pekerman took him as part of his squad to the Centenary Copa America this summer, where he played in two matches, and he will also form part of the country's Olympic squad in Rio.

The player's progression at Independiente Santa Fe, where he played between 2014 and May 2016, garnered the attention of the Barça technical secretary department.

As a lynchpin of their defence, he was one of the keys in the team's historic triumph in the 2015 Copa Sudamericana, and this year he scored three goals in the Copa Libertadores.

Despite having only completed a week of training with his new team, the young centre-back made his Palmeiras debut on Monday, in the 3-1 victory away to Sport Recife. In his first game in Brazil, he impressed fans with his personality and forcefulness.

The team's coach Cuca, and president Paulo Nobre, had already warned on the day of the player's presentation that Palmeiras is a stepping stone for the player to make the leap to European football, with Wolfsburg and Bayer Leverkusen also showing interest in the Colombian.

Cuca said: "Mina has everything to become a world-class centre-back, without doubt he will pass through Palmeiras very quickly."

The fact that Barça have obtained this preferential right for the player has no relevance in their attempts to sign Gabriel Jesus from the same Brazilian club. However it does prove the good relations that exist between the two sides involved.

Initially, Barcelona wanted to bring Yerri Mina to its B team, but in the end it was agreed with Palmeiras that he should continue his process of growth in the Brasileirao, a league which is much tougher than the Colombian top flight.

Finding a central defender for the future has become one of the priorities for the Catalan club's network in South America. In May, Barça had a deal in place to sign 20-year-old Davinson Sanchez, another Colombian, for 3.7 million euros.

However, the idea to use him in the Barça B side led to the player opting to join Ajax instead, for a fee of 5 million euros.
http://www.sport-english.com/en/not...ial-option-for-centre-back-yerri-mina-5251747
Another young CB we have been following.
Last edited: